Attractions Directory

Welcome to Attractions in America web site, an online resource where you can review for things to do while traveling or ideas for a day or weekend excursion. The U.S. is a versatile country filled with a multitude of places to see. Attractions,  tours, historical monuments, beaches, islands, museums, dining, unique  out of the way places, and so much more.
Review our web site attractions listings by state and be sure to bookmark as new things to see and places to go are added to the web site. Check out our sponsors banners throughout the web site for terrific discounts and coupons for attractions nationwide.
To add your attractions to the directory, click on add attraction above. It is FREE!
Blue Starlite Drive In Theater Austin Texas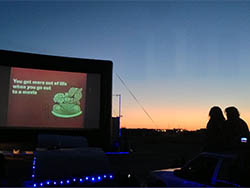 Looking for a drive in movie or a unique thing to do in Austin? Named one of the top 10 places for nightlife in Austin, Texas. The Blue Starlite Drive-In Theater is Austin's one and only Drive-In Movie Theater and the world's first Mini Urban Drive-in.
Here is a great unique things to do idea in Austin, Texas. The Blue Starlite Drive-In Theater promises their guests the most intimate, personal, one of a kind drive-in experience in the world! A one of a kind drive in theater with special touches such as concessions sold out of vintage trailers, carhops on roller-skates and clip-on audio speakers. Enjoy this classic drive in theater experience as a couple, family or a night out with friends. You can even bring the dog.

Visit their web site for show times and more information.

LOCATION
Urban Drive-in - Austin
​​1901 E. 51 st. st
(The second drive way- Directly under the water tower!)

Photo courtesy of Blue Starlite Drive In Theater.