Attractions Directory

Welcome to Attractions in America web site, an online resource where you can review for things to do while traveling or ideas for a day or weekend excursion. The U.S. is a versatile country filled with a multitude of places to see. Attractions,  tours, historical monuments, beaches, islands, museums, dining, unique  out of the way places, and so much more.
Review our web site attractions listings by state and be sure to bookmark as new things to see and places to go are added to the web site. Check out our sponsors banners throughout the web site for terrific discounts and coupons for attractions nationwide.
To add your attractions to the directory, click on add attraction above. It is FREE!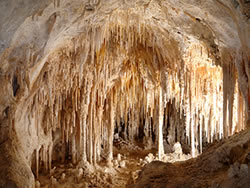 Beauty and Wonder; Above and Below New Mexico. A New Mexico attraction that everyone should experience. There are hidden treasures and breathtaking sights to see in the Carlsbad Caverns of New Mexico.
Carlsbad Caverns consists of over 119 caves with spectacular formations of sulfuric acid that dissolved into the surrounding limestone. Carlsbad is located in the Chihuahuan Desert on the majestic Pecos River.

The caves attract visitors and tourists from all over the world and is a must see thing to do when in New Mexico. The park offers, Self-guided Cave Tours, Ranger-guided Cave Tours and the Bat Flight Program where Brazilian (Mexican) Free-tailed bats take off for their nightly exodus.

Visit the National Park web site for complete information on hours, prices, photos, programs, cave tours and more.

Photo Courtesy of National Park Service