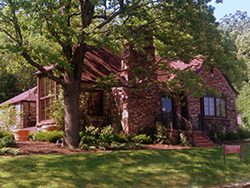 Attraction Introduction
Fayetteville's First Home of Bill and Hillary Clinton
Attraction Highlights
At one bedroom and 1800 square feet, this unassuming house in Fayetteville, Arkansas is like many other homes that surround it. However, this home has a special place in history. Not only did a future United States President and Secretary of State call this their first home, they were married right in the living room. Bill Clinton took Hillary Rodham's hand in marriage seventeen years before he would be elected President.
Now, here is your chance to see the house that served as the backdrop for that day in October of 1975. You'll see much more than just a well-preserved and restored home in the beautiful Ozark mountains. Witness rarely seen memorabilia of Clinton's early political career, including his campaigns for US House of Representatives and Arkansas Attorney General.
Study some of Clinton's earliest political speeches, showcasing his unique style that would eventually be discovered by millions around the globe. View a faithful replica of Hillary's wedding dress, and follow a timeline to put their Fayetteville years in perspective. Peruse our gift shop, discovering books, mementos, and more for a keepsake of your trip and be just steps away from the University of Arkansas campus where the Clinton's taught at the Law School.
Visit the web site for tour hours and more details
Photo courtesy of Clinton House Museum