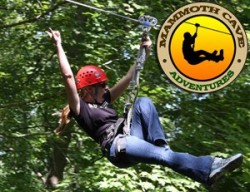 Attraction Introduction
Zip Line Tours, Horseback Trail Rides for fun family entertainment in Kentucky.
Attraction Highlights
When looking for excitement where you can hoot and holler and scream across the lines in excitement, look no further than Mammoth Cave Adventures. Located in Cave City, this is a fun filled and memorable full service, guided, 5-line canopy zip line tour through the trees of the Mammoth Cave area.
Fun for children and adults making this a day of fun for every member of the family. Additional activities include Horseback Trail Rides, Giant Super Swing, and Mammoth Cave Drop Tower.
Mammoth Cave Adventures, located in Cave City, KY, is the first and original Canopy styled tour in the state.
The course houses 2 separate courses that travel across 7 Zip Lines Spanning over 60 acres of rolling-high-ridged hills. A primary course of 5 ziplines and a secondary course that includes 4 ziplines and each course carries its own weight restrictions. 
The Zip Lines will have you weaving in and out of deep green canopies and over lush open meadows, traveling anywhere form 600 feet to 950 feet at speeds of 20 to 40 MPH. In addition to the Zip Lines you will experience the excitement of walking in the tree tops with the 2 Sky Bridges or the exhilaration of being cast up into the air on a Giant Super Swing. Are you ready for The Last Step? Take a Leap of Faith when you Step off the 70 foot Mammoth Cave Drop Tower the ONLY one of it's kind in Kentucky. 
Visit their web site for more information and how to book your day of excitement.
Photo courtesy of Mammoth Cave Adventures