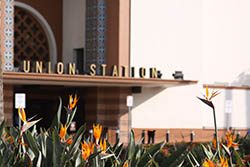 Attraction Introduction
When sightseeing in Downtown Los Angeles, a must do is to take a stroll through Union Station.
Attraction Highlights
Looking for things to do in Los Angeles? Take a stroll through and around Union Station in Downtown LA.
Open 24 hours, the historical Los Angeles Union Station is the main railway station in Los Angeles, California and the  major transportation center in Southern California. Built in 1939 this historical and beautiful train station is across from  Olvera Street and surrounded by historical buildings and sights. A few miles away is Chinatown and the Los Angeles Civic center.
A full day of sightseeing in Los Angeles for the entire family. History, shopping, dining can all be found within steps of Union Station.
Plenty of parking and free access to Union station, Olvera street and other great sightseeing opportunities.