The Bullet Ranch Pataskala Ohio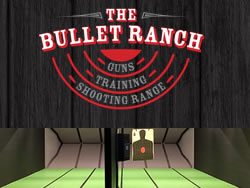 The Bullet Ranch is a 10,000 square foot Gun Shop and shooting and archery range range offering extensive inventory and selection in pistols, Glocks, revolvers, rifles, shotguns, automatic weapons, accessories and apparel.
Shooting Range: 10 Lane Shooting Range which will feature a 10 lane shooting range certified for all types of weapons.
Archery Range: The Bullet Ranch in Pataskala, Ohio also features 10 ninety foot outdoor archery lanes. The Lanes are available year round, weather permitting. Archery is a great things to do activity for the whole family. Men, women, and children.
Training – Offers a variety of training classes including Pistol fundamentals, AR Fundamentals, Tactical AR, NRA Basic Pistol, Women's Pistol Fundamentals, NRA Basic Pistol Course along with Concealed Weapons Certification.
Visit their web site to reviw more informtion on all the fun you can have at The Bullet Ranch
The Bullet Ranch
12425 Broad Street SW
Pataskala, Ohio 43062
Photo courtesy of The Bullet Ranch