unique things to do salt lake city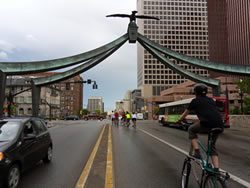 Here is a unique way to see the sights and keep fit. Book a Salt Lake City Bicycle Tour, a perfect unique way to explore Salt Lake. Great for the whole family.
The experienced tour guides are locals who definitely know their way around! Rest (and ride) assured that your friendly guide will lead you and yours through the town with the utmost care and respect. Providing accurate and entertaining commentary to the sights, you won't walk away without having learned something new. You're in safe and competent hands when you ride with them.
Enjoy a bicycle ride around the central Salt Lake City area, full of historic character, intricate architecture, and fascinating stories. Nestled in against the stunning Wasatch Mountain Range to the east, you are privileged to gawk, at the city's main source of recreation (and its water source), 11,000+ foot peaks of dense forest and rugged granite.
Salt Lake Bicycle Tours is based right in the heart of the City. Email or telephone is the best way to contact.
Visit their web site for all the details and to book a bicycle tour today.
Photo courtesy of Salt Lake City Bicycle Tours