Grimm Ghost Tours Salt Lake City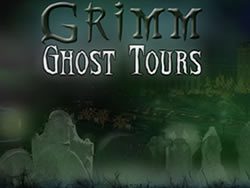 Voted the best of Utah 2012 and 2013. This unique thing to do is one of the best if you are looking to explore real authentic haunted locations.
Grimm Ghost Tours will take you to locations of actual hauntings. They are not the the proverbial historical tour of the city, but take you on a ghostly tour to the most haunted locations in Salt Lake City.
Tour goers get off the bus at most location sites to experiment with real ghost hunting equipment and take photos on the hour and a half tour. You will see the First Mansion in Salt Lake, The Rio Grande Train Depot, The Largest Municipal Cemetery in the United States, The Old Washington Square and Historic City and County Building where jousting events occurred, treaties were signed, and is home to a few lost spirits!
Check out their web site for more information on booking  tours and places where you can spend the night inside haunted locations and details on how you can join in on a paranormal investigation.
Office Hours:
Sun-Wed Closed
Thurs-Sat 5:30pm-9pm
Photo courtesy of Grimm Ghost Tours