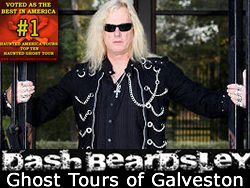 Attraction Introduction
Ghost Tours of Galveston Island haunted ghost tour like no other! A number of ghostly tours available with your choice of a walk or ride tour.
Attraction Highlights
Our attention to detail provides our guests with intense supernatural experiences providing a context to the story and a glimpse into the past where these restless spirits once walked.
Your choice of Four of ghostly tours available,  join Dash on an unforgettable haunted history tour or see him at his annual event "Wake the Dead Show" in September.
Visit the web site for all the spooky details of the tours and events in Galveston, Texas.
Photo courtesy of Ghost Tours of Galveston Island