Attraction Introduction
Looking for unique things to do and see in North Dakota? An amazing and unique roadside attraction, take a drive along the Enchanted Highway in North Dakota.
Attraction Highlights
Take a drive down the Enchanted Highway. Large classic art sculptures adorning the landscape along the Enchanted Highway in western North Dakota. Add this to your bucket list, must see unique sculptures, including Geese in Flight, Deer Crossing, Grasshoppers, Fisherman's Dream, Pheasants on the Prairie, Teddy Roosevelt Rides Again,Tin Family.
Be sure to stop by the gift shop to pick up a miniature sculpture of your favorite.
Visit the North Dakota Tourism web site more more details on this whimsical and unique roadside attraction.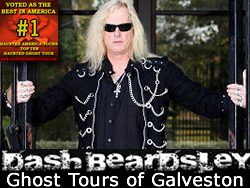 Attraction Introduction
Ghost Tours of Galveston Island haunted ghost tour like no other! A number of ghostly tours available with your choice of a walk or ride tour.
Attraction Highlights
Our attention to detail provides our guests with intense supernatural experiences providing a context to the story and a glimpse into the past where these restless spirits once walked.
Your choice of Four of ghostly tours available,  join Dash on an unforgettable haunted history tour or see him at his annual event "Wake the Dead Show" in September.
Visit the web site for all the spooky details of the tours and events in Galveston, Texas.
Photo courtesy of Ghost Tours of Galveston Island