Utah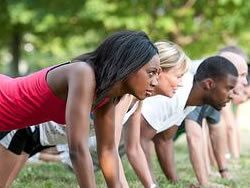 Looking to get in shape for something to do on your bucket list? How about booking a Boot Camp exercise class in Salt Lake City, Utah?
Kenny Akers is a Premier fitness coach offering High Intensity Interval training with an extensive Military background he will help construct a better you through Weightlifting, Sculpting, and weight loss. He has years of experience to keep you on track with your fitness goals whatever they might be.
Mr. Akers is a Personal Trainer since 2009 offering Online, gym, and outdoor Boot Camp training. Honorably served in the United States Military for 15 years with a Psychology background. Boot camp exercise classes vary in style, depending on the season and provides indoor and outdoor sessions and you can generally expect to meet outside, rain or shine.
We spend an hour doing some form of cardiovascular exercise (running, hiking, interval training, or obstacle course challenges), along with strength elements (using dumbbells, exercise bands, or the resistance of your own body weight). You'll also work on flexibility in a stretch portion of the class, and or abdominal work which may incorporate elements of yoga or Pilates.
In Gym Class Schedule is: MWF 7:15pm T-TH-S 7:00am Outdoor Camp "OPEN NOW" (Sugar House Park)
Call for meeting place: Saturdays 09:30am Location: 910 East 3300 South 2601 Salt Lake City Photo courtesy of Kenny Akers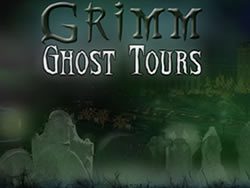 Voted the best of Utah 2012 and 2013. This unique thing to do is one of the best if you are looking to explore real authentic haunted locations.
Grimm Ghost Tours will take you to locations of actual hauntings. They are not the the proverbial historical tour of the city, but take you on a ghostly tour to the most haunted locations in Salt Lake City.
Tour goers get off the bus at most location sites to experiment with real ghost hunting equipment and take photos on the hour and a half tour. You will see the First Mansion in Salt Lake, The Rio Grande Train Depot, The Largest Municipal Cemetery in the United States, The Old Washington Square and Historic City and County Building where jousting events occurred, treaties were signed, and is home to a few lost spirits!
Check out their web site for more information on booking  tours and places where you can spend the night inside haunted locations and details on how you can join in on a paranormal investigation.
Office Hours:
Sun-Wed Closed
Thurs-Sat 5:30pm-9pm
Photo courtesy of Grimm Ghost Tours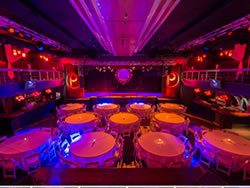 Park City Live hosts exclusive events, concerts and more exciting nightlife entertainment for things to do in Park City, Utah.
When looking for nightlife entertainment options in Park CIty, check out the happenings at Park City Live, Live Music Venue. Located on historic Main Street in the heart of Park City, they are the largest hot spot around and there is always something going on.
Visit their web site for concert and event schedule, directions and ticket information.
PARK CITY LIVE ADDRESS
427 Main Street
Park City, UT 84098
Photo courtesy of Park City Live