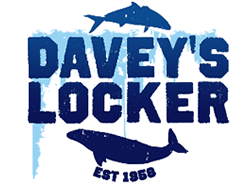 Attraction Introduction
THings to do in California for the entire family. Davey's locker serves the greater Los Angeles area providing whale watching and deep sea fishing excursions year round. Davey's Locker is located approximately 40 minutes from downtown Los Angeles and just minutes from most of Orange County located in Newport Beach, California.
Attraction Highlights
Davey's Locker departs from a natural harbor in Newport Beach, California. Davey's Locker Sportfishing & Whale Watching is where Southern California goes to experience what the pacific ocean has to offer.
 Davey's Locker is the most popular option for those who are looking for whale watching excursions in southern California. Thousands of whales viewed each season and beautiful coastline combines to make a world renowned whale watching destination.
The same pristine habitat that draws whales and dolphin supports amazing inshore and offshore fisheries year round. Along with general admission whale watching and deep sea fishing excursions, Davey's Locker provides charter fishing boats, and private boat rentals for fishing and whale watching excursions for all size groups.
A perfect memorable outing for the entire family or tourist destination for fishing and whale and dolphin watching off the coast of California.
Visit the web site for more information, details and how to book a great day in Newport Beach.