florida keys cruises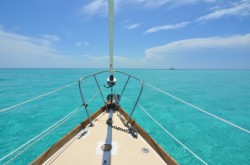 Luxury sailing in Miami, Florida touring Biscayne Bay and sightseeing trips to the Floria Keys aboard a 40 ft beneteau ocanis 40CC top of the line sailboat.
Sailing on Biscayne Bay is a relaxing way to spend an afternoon or enjoy a magnificent sunset while sailing on a luxury sailboat cruising through Biscayne Bay or the Florida Keys.
They offer three day cruises to an exotic Island which includes a visit to the 3rd most beautiful coral reef in the world, Molasses and the Christ of the Abyss.
Private and group sailing trips available. Sailing in Biscayne Bay offers 2 or 3 Hour Sail, 4, 6 Hour, Full Day Sail and more to Biscayne bay and in the Florida Keys.
Visit their web site to review all the sailing packages and discounts to make your visit in Miami one to remember.
Photo courtesy of Sailing on Biscayne Bay