Attractions Directory

Welcome to Attractions in America web site, an online resource where you can review for things to do while traveling or ideas for a day or weekend excursion. The U.S. is a versatile country filled with a multitude of places to see. Attractions,  tours, historical monuments, beaches, islands, museums, dining, unique  out of the way places, and so much more.
Review our web site attractions listings by state and be sure to bookmark as new things to see and places to go are added to the web site. Check out our sponsors banners throughout the web site for terrific discounts and coupons for attractions nationwide.
To add your attractions to the directory, click on add attraction above. It is FREE!
Train Stations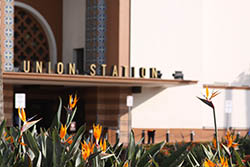 When sightseeing in Downtown Los Angeles, a must do is to take a stroll through Union Station.
Looking for things to do in Los Angeles? Take a stroll through and around Union Station in Downtown LA.

Open 24 hours, the historical Los Angeles Union Station is the main railway station in Los Angeles, California and the  major transportation center in Southern California. Built in 1939 this historical and beautiful train station is across from  Olvera Street and surrounded by historical buildings and sights. A few miles away is Chinatown and the Los Angeles Civic center.

A full day of sightseeing in Los Angeles for the entire family. History, shopping, dining can all be found within steps of Union Station.

Plenty of parking and free access to Union station, Olvera street and other great sightseeing opportunities.