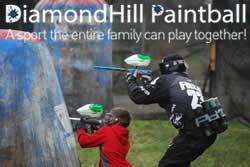 Attraction Introduction
Family-Friendly Recreational Facility in Harrisburg, Oregon. Get an adrenaline rush from playing outdoor and recreational paintball at DiamoandHill Paintball.
Attraction Highlights
Plan a day-trip that is fun for the whole family at DiamondHill Paintball, a recreational facility and outdoor paintball field in Harrisburg, Oregon.
Run by paintball enthusiasts who are active in playing and coaching, DiamondHill Paintball caters to people interested in casual and competitive play.
Customers love our outdoor field. Check in at the center, find a pit area and table, and play on any field you like. You are able to play as a group or by yourself. We offer rentals or you can play with your own gear.
Contact our recreational facility in Harrisburg, Oregon, to request more information about our paintball and speedball tournaments.
Member of the Tri-County Chamber of Commerce.
SPECIAL DISCOUNT: Bring in a printout of this web page and each player can play a 2 hour session with gear, air and 500 paintballs for only $25.
Visit the web site for more details, photos and more.
Photo courtesy of DiamondHill Paintball