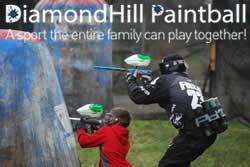 Attraction Introduction
Family-Friendly Recreational Facility in Harrisburg, Oregon. Get an adrenaline rush from playing outdoor and recreational paintball at DiamoandHill Paintball.
Attraction Highlights
Plan a day-trip that is fun for the whole family at DiamondHill Paintball, a recreational facility and outdoor paintball field in Harrisburg, Oregon.
Run by paintball enthusiasts who are active in playing and coaching, DiamondHill Paintball caters to people interested in casual and competitive play.
Customers love our outdoor field. Check in at the center, find a pit area and table, and play on any field you like. You are able to play as a group or by yourself. We offer rentals or you can play with your own gear.
Contact our recreational facility in Harrisburg, Oregon, to request more information about our paintball and speedball tournaments.
Member of the Tri-County Chamber of Commerce.
SPECIAL DISCOUNT: Bring in a printout of this web page and each player can play a 2 hour session with gear, air and 500 paintballs for only $25.
Visit the web site for more details, photos and more.
Photo courtesy of DiamondHill Paintball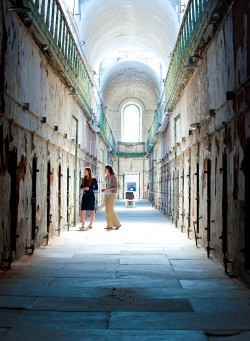 Attraction Introduction
America's Most Historic Prison available for tours, events, film and photography rentals. A great things to do idea and unique tour experience.
Attraction Highlights
Eastern State Penitentiary was once the most famous and expensive prison in the world, but stands today in ruin, a haunting world of crumbling cell blocks and empty guard towers.
Eastern State Penitentiary is known for its grand architecture and strict discipline, this was the world's first true "penitentiary," a prison designed to inspire penitence, or true regret, in the hearts of convicts.
Its vaulted, sky-lit cells once held many of America's most notorious criminals, including bank robber "Slick Willie" Sutton and Al Capone.
Visit their web site for all the details on tours, history and how to book a tour or event.
Photo courtesy of Eastern State Penitentiary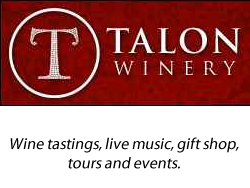 Attraction Introduction
Talon Winery & Vineyards in Shelbyville, Kentucky offers wine tastings, live music, gift shop, tours and events fun for the entire family.
Attraction Highlights
Come taste true Kentucky wines & experience the entire wine making process. Buy a glass or bottle and grab a picnic table and enjoy live music every weekend on our 300 acre Kentucky farm, surrounded by some of Kentucky's finest horse farms. Take a stroll through our 5 acre vineyard & gift shop. Bring the family!
Witness the entire winemaking process from vine to bottle at Talon Winery's Lexington, Kentucky location. Take a stroll through Talon's lush five acre vineyard, then shop for unique gifts and Kentucky Proud foods in the gift shop. Visitors are invited to taste wine in Talon's historical tasting house and to participate in a self-guided tour created by our winemaker, featuring Talon's winemaking and bottling process.
Visit Talon Winery's Shelby County, Kentucky location and taste wine in Talon's unique tasting room featuring a one-of-a-kind barrel ceiling. This location boasts a gift shop filled with eclectic gifts and Kentucky Proud products. The modern tasting house is surrounded by the small town charm of Shelbyville and conveniently located just off Interstate 64. Talon Winery in Shelby County offers daily wine tastings, featuring all of Talon's Kentucky Proud wines.
Visit the Talon Winery web site for more information on things to do at the winery.