colorado mine tour pan for gold silverton colorado things to do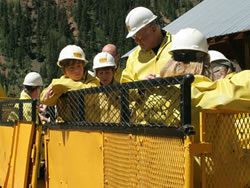 Something different and unique. Tour the mine and pan for gold, silver and semi-precious gemstones at the Old Hundred Gold Mine Tour in Silverton, Colorado.
Looking for things to do in Colorado, something different and an experience that can be enjoyed by every member of the family? Travel 1/3 of a mile on a tram into Galena Mountain, tour a mine and learn how its done.
Pan for riches, relax in the picnic area and watch others trying to strike it rich panning for gold or visit the gift shop for one of a kind souvenirs. Fun for the whole family. Gold panning is included with the purchase of tour ticket.
Visit the web site for more information, times and prices.
Photo courtesy of minetour.com