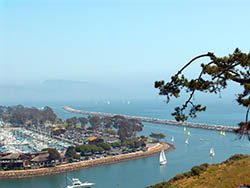 Attraction Introduction
Dana Point Harbor, home to fun on land and sea.
Attraction Highlights
Dana point harbor is located in Southern Orange County, California. This beautiful harbor is one of the most visited in the world attracting thousands of people each year.
On the California coast, Dana Point is a must see for shopping, dining and enjoying a multitude of land and sea activities and events.
Dana Point harbor is bordered by Doheney State park, home to one of California's most beautiful beaches.
Photo Courtesy of PhotosofCalifornia.com