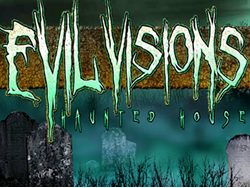 Attraction Introduction
Looking for a scary haunted house attraction for Halloween? Check out one of Louisiana's best. You've heard the stories... You've felt the fear.... Now experience the EVIL like never before. What unspeakable atrocities occurred within these walls?

That's for you to find out. Can you survive Evil Visions Haunted House's Serenity Asylum?
Evil Visions is an intense haunted house located on the corner of 5th st and DeSiard st downtown Monroe, LA.
Attraction Highlights
Nightmare Productions LLC presents a night of ghosts, goblins and psychos who will inflict alot of terror at Evil Visions Haunted House.
Open during the month of October, visit their web site for schedule and ticket information.
Photo courtesy of Evil Visions.