hot air balloon rides Del Mar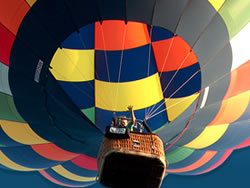 California Balloon Rides offers hot air balloon rides in the wine country of Temecula, the city sights of Perris, off the coast of Del Mar and the beautiful Palm Springs desert.
California Balloon Rides is one of the oldest, largest and most experienced full-service balloon companies in the country. Established in 1975, California Balloon Rides combines the rich traditions of old world ballooning with the latest in aerostatic technology. The hot air balloons are custom designed and maintained in their own FAA certifiedaircraft repair station and piloted by the finest balloon pilots in the industry.
Experience a 30-45 minute flight which includes complimentary post-flight breakfast at the Bomb Shelter Restaurant, champagne toast and commemorative flight certificate.
Serving Del Mar, Temecula, Palm Springs and Riverside county
Visit their web site for more information, and how to book a memorable balloon ride flight over some of the most beautiful areas of Southern California.
Photo courtesy of California Balloon Rides