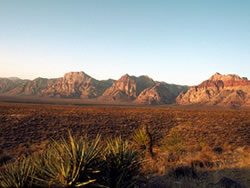 Attraction Introduction
Red Rock Canyon National Conservation Area offers geologic formations and a vast array of plants and animals that thrive the the Mojave Desert. Great destination for those who enjoy the majestic landscapes of America.
Attraction Highlights
Red Rock Canyon is Nevada's National Conservation Area consisting of is 195,819 acres and is located just 17 miles west of the Las Vegas Strip on Charleston Boulevard/State Route 159. Red Rock Canyon is visited by over a million people yearly who enjoy the outdoors. Hiking, rock climbing, mountain and road biking, picnic areas or just enjoying the natural habitats of the local residents that live in the Mojave desert. This majestic landscape of Nevada is  what attracts so many people from all over the globe.
Physical address: 3205 State Route 159, Las Vegas, NV 89161
Mailing address: 1000 Scenic Loop Drive, Las Vegas, NV 89161
Photo Courtesy of Bureau of Land Management