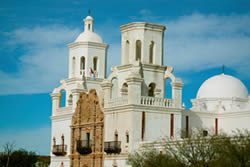 Attraction Introduction
Sight seeing in Arizona. When in Tucson, Arizona be sure to put the Spanish San Xavier Mission on your list of places to see. National landmark
Attraction Highlights
San Xavier del Bac is a national landmark dating from the late 1700's and was founded by Father Eusebio Kino in 1692. Referred to as the White Dove of the desert, it is the oldest European structure in Arizona and a short drive of approx. 10 miles south of Tucson.
The mission is an architectural masterpiece where visitors can marvel at the beauty inside and out.
They offer guided tours or tourists can walk about on their own, the mission sponsors events, a mission school and conducts services. This is a free attraction and a must see while visiting Tucson, Arizona.
Visit the web site for complete information and photos of this Arizona Landmark.
Photo courtesy of Photos of California and beyond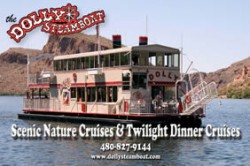 Attraction Introduction
The Real Arizona - Canyon Lake
Arizona's World Class Cruise


This Junior Grand Canyon" tour is consistently rated one of the "Best Things To Do in Arizona"
and is a premier Arizon attraction for locals and tourists alike.
Attraction Highlights
Arizona is a beautiful state and the versatility of Arizona's landscape is magnificent. There is so much to see and do beginning with nature tours and cruises.
A short distance from Mesa, Scottsdale and Phoenix, Arizona are inspiring scenic Nature Cruises and Twilight Dinner Cruises that will make your visit to Arizona memorable.
In the heart of the Superstition Mountains is the breathtaking Canyon Lake, home of the Dolly Steamboat. Since 1925, the Dolly Steamboat cruises the secluded inner waterways of this beautiful lake.
Tour the favorite destination of President Theodore Roosevelt who declared, "the Apache Trail and surrounding area combines the grandeur of the Alps, the glory of the Rockies, the magnificence of the Grand Canyon and then adds an indefinable something that none of the others have."
You will see magnificent scenery at every turn and catch glimpses of the versatile wildlife that call Canyon Lake their home.
Your nature tour will take you up the historic Apache Trail in the Tonto National Forest, which provides the most awe-inspiring and sublimely beautiful panorama nature has ever created.
Every trip brings new revelations of rock formations, geological history and the flora and fauna distinct to the Sonoran Desert and Arizona's first historic highway, the Apache Trail.
Visit their web site for more details and to book a relaxing nature tour or twilight dinner cruise.
Photo courtesy of The Dolly Steamboat