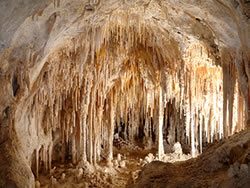 Attraction Introduction
Beauty and Wonder; Above and Below New Mexico. A New Mexico attraction that everyone should experience. There are hidden treasures and breathtaking sights to see in the Carlsbad Caverns of New Mexico.
Attraction Highlights
Carlsbad Caverns consists of over 119 caves with spectacular formations of sulfuric acid that dissolved into the surrounding limestone. Carlsbad is located in the Chihuahuan Desert on the majestic Pecos River.
The caves attract visitors and tourists from all over the world and is a must see thing to do when in New Mexico. The park offers, Self-guided Cave Tours, Ranger-guided Cave Tours and the Bat Flight Program where Brazilian (Mexican) Free-tailed bats take off for their nightly exodus.
Visit the National Park web site for complete information on hours, prices, photos, programs, cave tours and more.
Photo Courtesy of National Park Service