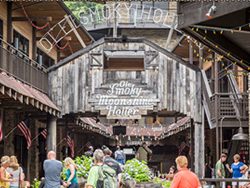 Attraction Introduction
The Ole Smoky Moonshine Distillery in Gatlinburg, Tennessee, "The Holler", is America's most visited distillery by people from all over the world and produces a number of signature flavors.
Attraction Highlights
Recognized as a Top Performing Distillery. A visit to Ole Smoky Distillery is the true moonshine experience. As you approach the entrance, the distinct smell of cooking and fermenting grains takes over your senses. Here, you'll see authentic-working moonshine stills and take in the entire process - from beginning to end.
There is no charge to view the distillery. Tours are self guided and completely free. We are open to all ages so the entire family can learn more about moonshine and its history.
Our distillers like to visit with folks. They'll be glad to answer your questions about the history and lore of moonshining in East Tennessee.
Ole Smoky Distillery offers free samples of our Original Unaged Corn Whiskey, White Lightnin', Moonshine Cherries, Blackberry, Our World famous "Apple Pie", Strawberry, Peach and Lemon drop.
We also offer seasonal and special flavors that are not available in package stores. You'll be able to buy plenty of moonshine and Ole Smoky merchandise to take home with you.
Visit the web site for more information, events, to visit the online shop to git yourself some of that Tennessee moonshine.